Tomahawk Fishing Charters is owned and operated by Capt. Buddy Vanderhoop, a Native American of the Wampanoag Tribe of Aquinnah, on Martha's Vineyard Island, Massachusetts.
Well known for catching BIG fish, he offers bass and offshore big game sport fishing charters, as well as whale watching trips. 
Charters
All fishing tackle is provided, but you can bring your own, and don't forget the sun block, polarizing sunglasses, hat, rain gear and camera. Maximum capacity for all fishing trips are 6 people, children under five is not recommended.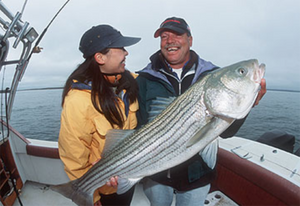 Inshore Fishing
Half and full day charters available mostly bait fishing for striped bass and bluefish. We also catch black sea bass and fluke during the summer months. Captain Buddy has a track record for catching big fish and has been doing it for over 30 years.
Read more →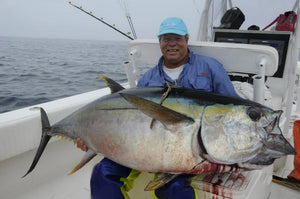 Offshore Fishing
Full-day offshore charters (up to 40 miles), Bluefin Tuna Trip east of Cape Cod, Day or Overnight Canyon Trips. At the canyons we catch Tuna, White Marlin, Blue Marlin, Wahoo, and Mahi Mahi. We also have shark trips available (only 20 miles out).
Read more →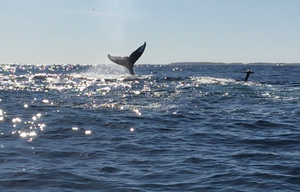 Whale Watching Trips
Whale watching is a great family activity! Capt. Buddy offers the only private whale watching tours on Martha's Vineyard. A premium experience, with coffee and danish for the trip out, a lobster roll and champagne lunch, and Shrimp cocktail and champagne for the trip back (as well as soft drinks for children).
Read more →
The Tomahawk
Enjoy fishing and the gorgeous scenery off Martha's Vineyard aboard the Tomahawk.
Whale Watching
The Vineyard's only private Whale Watching trips.
Honoring heritage, tradition, and the environment in managing our fisheries
Conservation Law Foundation (CLF) Video: Charter boat captain Buddy Vanderhoop was always taught to "never take more than you need." The federal fishery law should work not just for commercial fishermen, but for smaller fishing operations and the ocean's ecosystem, too.